SAP Content Management Services
Native SAP Content Management Solutions
Document management solutions are easy to implement and the projects yield high ROI. While SAP® offers a wide variety of different tools to manage documents, solutionXchg can be your service partner to handle your project from start-to-finish.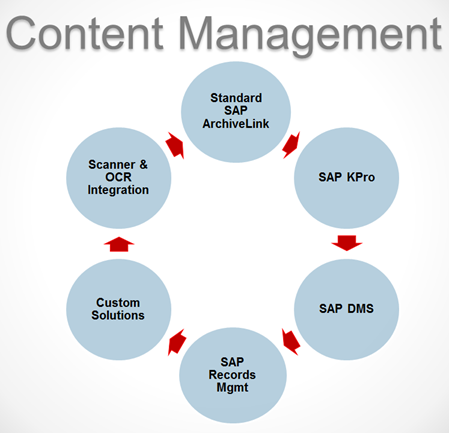 Content Management
Standard SAP ArchiveLink™: Implementation of incoming and outgoing document scenarios, as well as print lists
SAP -KPro™: Implementation of document management and processes using SAP KPro
SAP DMS™: Implementation of document management and processing scenarios using SAP DMS
SAP Records Management™:Implementation of document management and processing scenarios using SAP Records Management
Custom Solutions: Design and implementation of custom document processing and management solutions to enhance business processes
Scanner/OCR integration: Integration of scanner and OCR output
Content Management Offering
We offer an end-to-end consulting services approach to your SAP content management needs. Our services are not limited to, but include:
Comprehensive Business Process Analysis and Re-Engineering: We analyze your existing business processes to design new state of the art processes.
Customizing:We teach our customers the necessary configuration.
Migration: We design and perform migrations for you.
Custom Reporting: We design reports according to your requirements.
Knowledge Transfer: We focus on sharing our knowledge with our customers.
Project Management: We provide project management as part of our projects.
Our Consulting Team
Our consulting team consists of highly experienced consultants and subject matter experts with a minimum of 10 years of experience in the field. Through our methodology we generate fast ROIs. Our consulting approach emphasizes transferring our knowledge to our customers in order to enable and make them successful during and beyond the project. Each project is custom designed to a customer's objectives and its SAP environment.