Archive Migration Solutions
SAP ArchiveLink Migration for any SAP Content Repository: A low-risk, high-data availability solution for document and data migration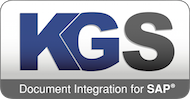 In today's data-centric world, migrating legacy archives to take advantage of more cost-effective, efficient and stable alternatives is a top priority for the business community. For good reason. With each passing day, the excessive operational and legal exposure risks these aging systems represent threaten to undermine the vital work processes that are central to smoothly functioning business operations.
Yet traditional methods for migrating data to new archival systems tend to be disruptive, frequently culminating in high-risk "migration weekends" that rely upon months of flawless planning and execution. It's a high stakes process without a lot to like.
Ease of Use – Seamless Transition
At SolutionXchg, we believe migrating archival records shouldn't be so complicated. Or filled with so many business risks. Unlike traditional migration solutions, KGS Migration4-ArchiveLink for SAP ArchiveLink Migrations enables businesses to immediately transition to a new target archive, with data migration continuing in the background via a proxy server-based process that is transparent to end users. Normal work routines continue as Migration4ArchiveLink ensures data migrations are carried out safely and securely, without performance impacts on SAP production servers or business operations. It is the lowest risk, highest data availability solution for migrating SAP archives on the market today.
System Benefits:
Full access to archival data throughout the migration process, regardless of where the data resides (target or source archive).
100% rollback capability at any stage in the migration process.
Complete process control, including error/exception notification and management.
Thorough safeguards and audit trails to ensure regulatory and legal compliance.
Safety and Control – Built-in Auditing
KGS Migration4ArchiveLink puts control over the data migration process where it belongs — into the hands of IT personnel. Its web-client interface provides authorized users with easy access to detailed status and progress reports on the migration process; error reporting and exception management capabilities; as well as intuitive configuration controls and migration management capabilities.
Clear audit trails and automatic step-by-step documentation of all migration events, traceable down to the individual document level, conform to widely accepted accounting principles and ensure regulatory and legal compliance. Optionally, random sample verification techniques further document migration integrity and compliance. With minimal administrative effort, KGS Migration4ArchiveLink delivers migration success without the risks associated with proprietary server- or process-dependent migration solutions.
Migration Highlights:
Step-by-step documentation of all migration events, traceable down to the individual document level.
Audit trails that conform to common accounting principles and ensure compliance with regulatory and legal mandates.
Proactive monitoring with e-mail error notifications, backed by robust exception management capabilities.
Immediate use of new target archive, with transparent access to all documents and data regardless of where it resides.
Migration strategies for "special" documents (e.g. SAP work item attachments, bar-coded documents).
No performance penalties, workplace disruptions or high-risk migration weekends.