Content Server for SAP
SAP-Archiving re-reinvented by KGS!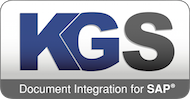 SolutionXchg and KGS together revolutionized document and data archiving for SAP ERP implementations in the US!
After decades of using heavy weight and complex archiving solutions from classical ECM vendors for fulfilling their SAP data and document archiving needs, companies start abandoning their existing heavy weight solutions in favor of a new class of archiving products.
KGS was the first company conceptualizing and developing a new class of SAP certified archiving solutions solely built for SAP requirements. The KGS ContentServer4Storage conforms to the highest performance and security standards without requiring a relational database or an additional archive server. Its lean architecture allows it to run as a web-service on a state-less virtual machine supporting any modern storage system for storing the actual documents and data.
Its secure architecture and full product support makes it a favorite over SAP's native content server which is not recommended for production usage by SAP itself. On-going development and continuous testing as well as support of leading storage solutions from major storage vendors qualifies the KGS ContentServer4Storage as the preferred choice of modern IT departments.
Classical heavy weight archiving solutions are built as standalone systems that require a full database license and installation on a separate server computer, an archive server that manages and administers various temporary storage locations, connections to the database and interfaces to storage platforms, all in addition to maintaining a connection with SAP. This heavy architecture leads to slow performance due to multiple communications layers built on top of each other, distributed log files, complicated trouble shooting, and potentially high administration efforts.
In comparison, the KGS ContentServer4Storage runs on a single virtual machine with only temporary caching requirements due to its revolutionary design. It accepts storage and retrieval requests from SAP and directly sends them through to the underlying storage system without ever materializing any data in a file or storing it in a database.
KGS ContentServer4Storage is SAP ArchiveLink™ 6.40 (including load test) and SAP NetWeaver Information Lifecycle Management (BC-ILM 3.0) certified. It is fully capable to support different storage solutions, like iTernity iCAS, EMC Centera, NetApp SnapLock, regular NAS or SAN, and HSM solutions. Its server components are designed to run on every hardware and every operating system. Because of its small footprint, it is basically administration free.
Document retrieval is light-weight, too. The display of images is handled by either the KGS JavaViewer, an industry standard and zero-footprint document viewer, the SAP Document Viewer, or by mime-type specific desktop applications (e.g. Adobe Acrobat Viewer, MS Word, MS Excel, etc.).
The KGS ContentServer4Storage is an HTTP-server for SAP. As a Java application, it can run on any platform (Windows, Unix, Linux,… ). Because of its simple and universal technology, it requires very little special system knowledge to support it and is ideal for any outsourcing scenario, Cloud deployment or centralized management.
Features:

Universal platform-independent solution
Support of all SAP releases
Caching capabilities
High-availability configurations
High-performance management of large amounts of documents and data
Fully SAP ArchiveLink and BC-ILM 3.0 certified
Retention Management via WebDAV 3.0
Fully qualified digital signatures for secure and compliant archiving

Benefits:

No additional database or archive server required
Storage solution agnostic
Server hardware and OS independence
High performance with extreme document volumes
Easily scalable
Virtually administration free
Document Imaging
Document Imaging
Linked documents are captured through various desktop applications or scanning programs and archived to SAP transactions using the KGS ContentServer4Storage. They are easily viewed with the KGS Java Viewer or any native desktop applications. All standard SAP document management functionality, for example SAP Printlists, SAP Workflow, SAP DMS, KPro, Records Management, and SAP Document Finder technology is supported. All business process automation solutions around original documents that integrate via ArchiveLink by various vendors are supported; this includes the xft personnel file or the xft invoice manager.
Data Archiving
Data Archiving
Data Archiving removes mass data that the system no longer needs online, but which must still be accessible at a later date if required. SAP defined archiving objects are used to write documents to archive files, which then can be securely stored on the KGS ContentServer4Storage. The solution fully supports add-on products by PBS Software and TJC Software Solutions.
DART
DART
DART allows you to periodically extract and retain data from active R/3 applications, as well as from data that has been archived previously with the R/3 Archive Development Kit (ADK). DART extracts the data into sequential files and provides tools for viewing the retained data in various ways. The KGS ContentServer4Storage archives all your DART files on your preferred secure storage platform.