SAP Archive Replacement
Reduce your SAP archive annual maintenance by up to 50% – No up front license fee!
Solution Exchange and KGS Software have teamed up to present you an incredible offer just in time to relieve your IT organization budget in this uncertain economic situation. We understand that you have to do more with less and have therefore created a package that cuts down on your immediate cost and also significantly reduces your software maintenance going forward!
One of the quickest ways to save money in a tight budget situation is to reduce unnecessary recurring maintenance fees. Forrester pointed out in a recent IT trends study that many companies are looking for ways to drastically reduce software maintenance – the single biggest item in their IT budgets.
Money spent on unnecessary maintenance does not create value for your business, nor does it help your organization leap ahead of the competition. You need to free up your maintenance money now, start working on strategic projects, and contribute directly to the bottom line of your organization.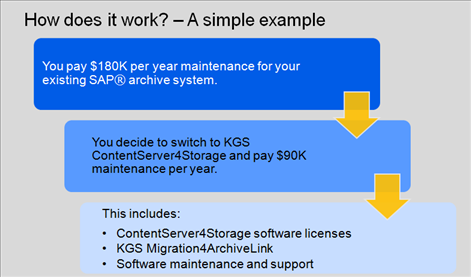 Are you running an SAP ArchiveLink compliant archive?
Do you need to reduce your IT maintenance cost?
Our solution offering:
Direct replacement – No up front license fee
Up to 50% reduced annual maintenance fee compared to your current payments
Migration software bundled for free
"Soft" migration process, completely transparent to your end-users
Long-standing SAP Technology Partner tradition
Fully SAP certified solution
In use at more than 500 of the largest organizations worldwide
Strong SAP and ECM consulting team with at least 10 years experience in the industry on average
The packaged solution allows for an installation in parallel to your current SAP archive solution. The migration cockpit is making the document migration a non-issue. With just a few clicks your documents will start migrating in the background from your legacy system to your designated storage arrays without any impact on SAP. And the product installation can be done in as little as 3 days…
KGS ContentServer4Storage
KGS ContentServer4Storage has been specifically developed to satisfy the requirements of SAP archiving. It is a unique solution in this field, able to cope with even the highest performance requirements. KGS ContentServer4Storage is SAP ArchiveLink™ 6.40 (including load test) and SAP NetWeaver Information Lifecycle Management (BC-ILM3.0) certified. It is fully integrated into different Storage and HSM Solutions and its server components are designed to run on every hardware and every operating system. Because of its small footprint it is basically administration free.