SAP Data Archiving Services
Native SAP Data Archiving Solutions
A live SAP system generates a significant amount of data which grows exponentially every year. While data of the last two fiscal years is still used, older data becomes costly "dead weight" for the database. This older data causes performance reduction as well as administration and infrastructure overhead when considering back-ups, client copies to non-production systems, and disaster recovery sites.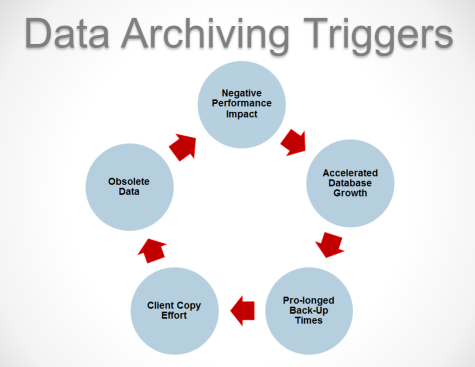 Data Archiving Triggers
Negative Performance Impact: Large databases result in slower response time for users.
Accelerated Data Base Growth:The SAP database grows faster annually.
Pro-Longed Back Up Times: Large databases take longer to back up. Sometimes, they are so big that it is difficult to find reasonable back up windows.
Client Copy Effort: If the production database is huge in size, client copies to non-production systems take very long. Keeping the production database lean makes refreshing non-production systems a smoother and faster job
Obsolete Data:Companies change. Business Units get sold or need to be closed. It becomes a liability to keep data that a company is not legally bound to hold on to
Archiving Offering
We offer an end-to-end consulting services approach to your database growth needs. Our services are not limited to, but include
Comprehensive Database Analysis: We analyze your data base to see which tables and business objects can be archived giving you fast ROI
Project Road Map: We build your project plan according to our findings in the analysis.
Methodology: We follow a strict methodology to make processes repeatable.
Knowledge Transfer: We focus on sharing our knowledge with our customers.
Customizing: We teach our customers the necessary configuration.
Reports and Metrics: We use standardized reports that show the archiving results after each object implementation.
Project Management: We provide project management as part of our projects.
Our Consulting Team
Our consulting team consists of highly experienced consultants and subject matter experts with a minimum of 10 years of experience in the field. Through our methodology, we generate fast ROIs. Our consulting approach emphasizes transferring our knowledge to our customers in order to enable and make them successful during and beyond the project. Each project is custom designed to a customer's objectives and its SAP environment.