SAPPHIRE 2015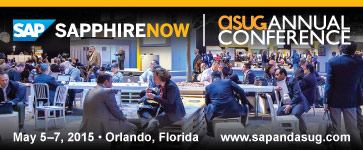 SAPPHIRE NOW and ASUG Annual Conference are almost here! While solutionXchg will not have a booth at the show this year, the event still presents a great opportunity to meet casually during one of the breaks, at one of our partner booth locations, or for a cup of coffee between sessions on the show floor.
We have added a number of new and powerful solution packages to our solutionXchg data and content management software portfolio. We'd love to present to you some of the products and packages for SAP centric document imaging, SAP Data Archiving for SAP ERP & BW, and Business Efficiency Solutions for SAP HR, FI/MM & Contracts Management – as made available by our preferred solution vendors.
Please send me an email to schedule a meeting for an ad-hoc demonstration or to discuss your requirements. You can also reach my business partner Kristin Gerling or me via our mobile phones: (484) 343-5787 for Kristin Gerling, (484) 716-1210 for Jochen Hager.
Jochen Hager
Jochen C. Hager is a results-oriented and proven professional over 20 years of consulting and management expertise in the SAP Eco space. He is an expert in translating business requirements into solution proposals, analyzing existing operations and implementing strategies, processes and technologies to improve organizational performance. He has extensive experience in SAP, ECM (Enterprise Content Management), and storage technology to help companies improve operating efficiency, reduce cost and increase revenue. He personally designed the SAP ArchiveLink interface together with SAP engineers almost 15 years ago. Over the last 10 years, he and his team have helped more than 200 large ERP / SAP customers to implement an Imaging and WF solution, gaining significant business process improvements. Jochen held positions in Consulting, Consulting Management, Business Development, and Executive Management with Open Text / IXOS, Mobius Management Systems, 170 Systems, and other organizations.